Enjoy ...
Whether you're with the spouse you see every day or the classmate you haven't seen since graduation, join us for lunch or dinner and enjoy some of the freshest seafood around. Join our "Fishing Buddies E-Club" to stay on top of everything going on and we'll even send you a coupon for a free dinner on your birthday! Click for more details.
Delightful Desserts
In addition to our famous fried seafood, we have a large selection of desserts that we make ourselves in-house. Our Toll-House Pie, ordered ala mode, will soothe anybody's sweet tooth for days! Have sugar tolerance problems? No problem, we've got sugar free desserts too, even fresh sugar free whipped cream! Don't worry, you're still alive, you aren't in heaven yet.
Traditions ...
Family is what Anglers is all about. My father, Buddy, opened Anglers over a decade ago with the vision of creating a dining experience that made you feel like family. Now with three locations our family is getting pretty big! So the next time you're in the Searsport or Newport, area, stop in and let our family serve yours! We'd love to see you!
Drop your card for a chance to win...
That's right! Come in for lunch or dinner and drop your business card in our Fishbowl of Friends for a chance to win a $25 Anglers Gift Card! Keep coming in for more chances to win! And what's EVEN BETTER... If you don't win, we put your card back in the drawing to maximize your chances. See you at Anglers!
Welcome To Anglers Restaurant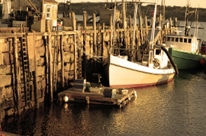 The idea for Anglers was conceived from a 1928 "Hunting and Fishing" magazine. Anglers Family Seafood restaurant is here to afford you a friendly atmosphere where you can enjoy the passion and pleasures yielded by the age old trade of fishing.
Anglers is dedicated to the pleasure of your dining experience.We offer only the finest professional service and the freshest high-quality foods, expertly prepared at a family-focused price. We are dedicated to our 100% satisfaction guarantee, and even more importantly, we are dedicated to you, our customer.
Anglers is committed to serving the public and supporting the community which surrounds us by procuring local ingredients as frequently as possible, we are able to keep money inside our local economies. Our customers are the backbone of out success. As always, it will be, and is, our pleasure to serve you.
5.5K people are following this. Be the first of your friends to follow this.
Half-Court Shot!
If made, the winner gets a $100 gift card to Anglers!